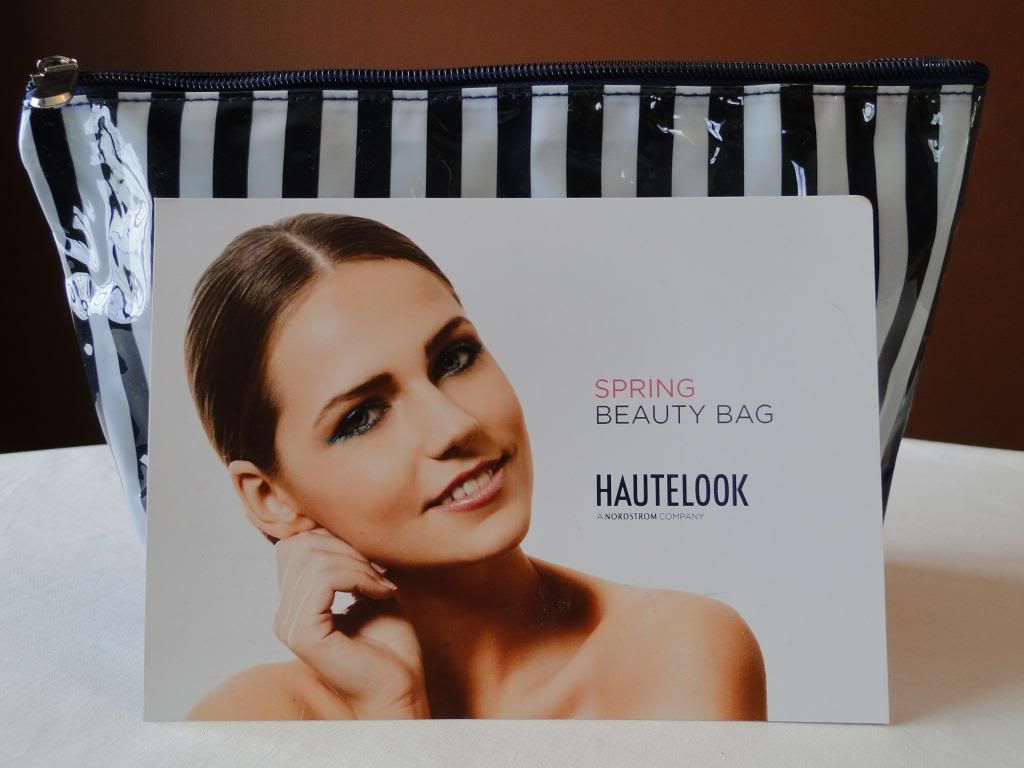 HauteLook did another beauty bag, this one for spring and even though I initially said I wouldn't buy it, of course I did. With these beauty bags, you can actually see the products included before they go on sale which is really nice. So I saw an eyeshadow color I thought wouldn't use much, another Urban Decay pencil in Demolition (i think i have 5 or 6 of that shade now), more mascara (i've got a dozen tubes), etc. etc. and declined. But then the day came when they went on sale and I paid my $25 plus $7.95 shipping just like every other addict out there. Was it worth it? I'll tell you.
Crash was the first Urban Decay 24/7 Pencil I ever purchased. I'm pretty sure Demolition was the 2nd. It's a deep, matte brown that is gorgeous and rich. I'd say it's a must-have for any woman who wears pencil eyeliners. Because I've accumulated so many by now, I'm going to give this travel sized one to either my sister or a friend. While Urban Decay is owned by L'Oreal who is not cruelty free, UD is certified by PETA and Leaping Bunny.
HauteLook sent out this same Crown Brush Pro Blending Fluff in the fall/winter bag but I don't mind. I can never have too many makeup brushes and I use the first one I received several times a week. It works best with pressed eyeshadows that aren't too powdery and don't have a lot of glitter. I use it to apply darker colors on the outer lid and crease. Crown Brush has a very strong statement against animal testing but the UK Crown site notes this brush is made with goat hair. They are not certified as cruelty free.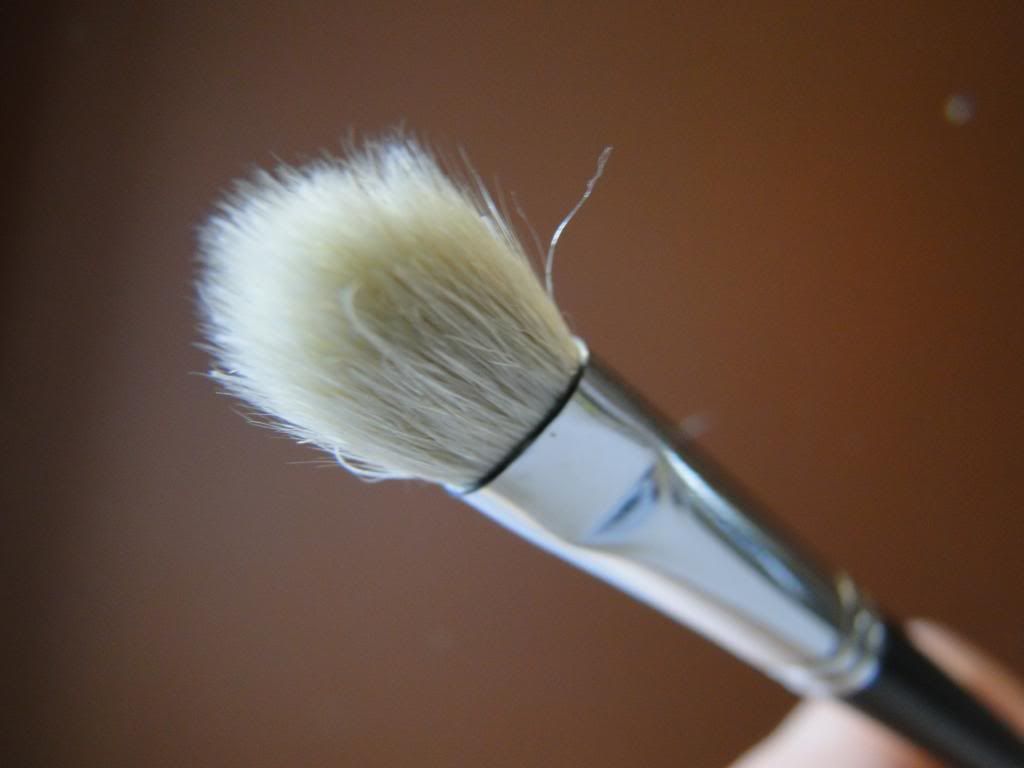 I've mentioned before that I love to scrub my face; really
scrub
it. I think it goes back to my days of painful, cystic acne when I wished I could just scrape my skin off and start over. The exfoliate foaming cleanser from suki has big ol' sugar crystals in it that scruuuuuub and I absolutely love it. Yeah, this cleanser is the stuff. It foams a little, has a bright, lemon scent and rinses away so easily. My skin feels soft and clean, not at all irritated, dry or tight. It can be used once a day, but I'll probably go with just a few times a week. Suki skincare is certified by both PETA and Leaping Bunny as cruelty free and this cleanser is vegan. I highly recommend you check it out if you are looking for a good scrub.
LA Fresh wipes are becoming a standard in my house. I bought a bunch from HauteLook for myself and the dogs; and have received them in previous boxes. HauteLook sent a nice variety, most I've not tried before like the waterproof makeup remover and anti-aging cleanser. One of the things I like best about LA Fresh wipes is that they are big and soft. I find them to be gentle and non-drying, and an acceptable substitute on nights when I'm too tired to go through my entire routine. The waterproof makeup remover was a little greasy for my liking but it worked pretty well. The others took care of my layers of primer, foundation, blush, bronzer, and powder leaving my face clean and soft. LA Fresh products are eco-friendly and not tested on animals.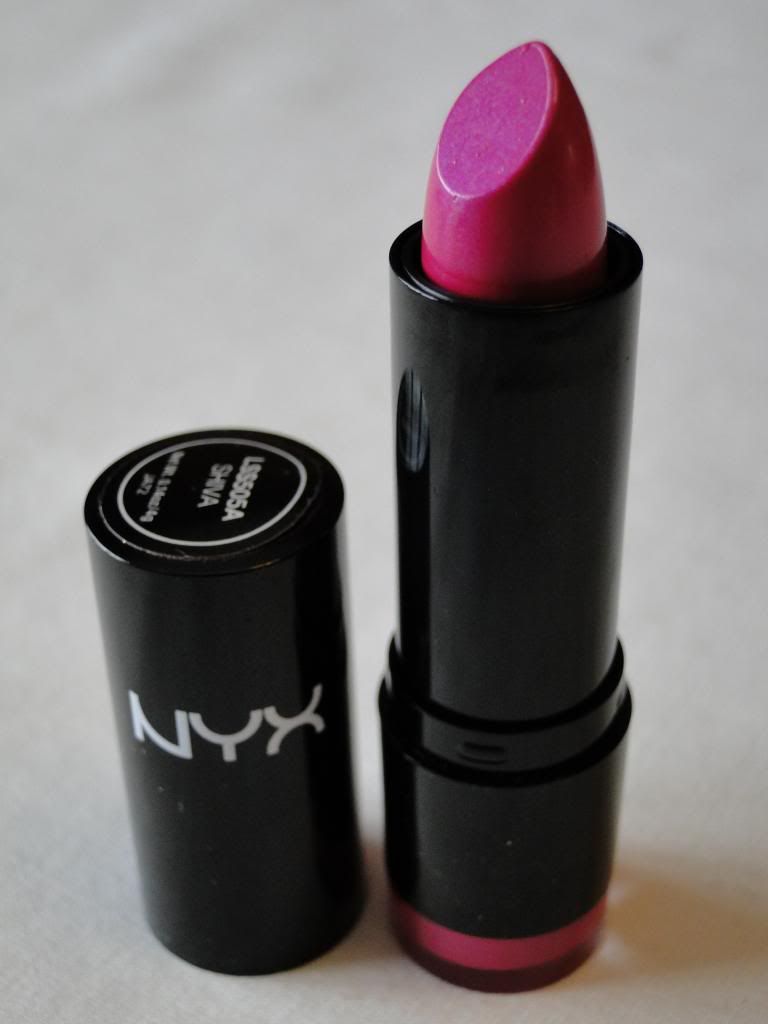 Holy fuchsia lipstick, NYX! This shade, Shiva, is blue-toned and it is very, very bright on me. It's not meant for the shy people in the audience, that's for sure. The formula is smooth and creamy, and wears well for a few hours without fading. Shiva isn't a color I'd wear everyday but it's a good one to keep on hand for nights out. Coincidentally, I bought a bought an NYX jumbo lip pencil in Hera a while ago and that shade is very close to this. I'll have color for days if I layer those two! NYX is one of the few budget-friendly brands that is certified by PETA as cruelty free. I've only found it at Ulta (and often on sale for buy one, get one 50% off) but word on the street is that they might be moving into Target. Yeay!
I have mixed feelings about these All-Over Shimmer Liquid Luminizer packets from Stila. I received a deluxe sample of the bronzer from
Birchbox in November
and didn't love it because it was too light. All shimmer, no bronzer so I gave it to my sister. I tried out the rose gold as a cheekbone highlighter and it was nice but now I've got this open foil packet sitting in my bathroom, drying out. Bad delivery, Stila. The luminizer is creamy and easy to blend into the skin but it is also packed with shimmer, so be prepared. I don't use highlighters all that often, it's a step that is easy for me to skip. When I do decide to sparkle it up, I reach for the pressed powders I have from tarte or the Balm so I don't think these will get much use. Stila is cruelty free.
Over the past few months, I've added several LORAC palettes to my collection. The shadows are nicely pigmented and go on smoothly though they don't wear quite as long as others from Urban Decay and Too Faced. I've also been using the eye primer for a while and I love it. Here we have a shadow single in the color Celebutante and the 3D Lashes Mascara. Aquamarine isn't a color I would normally reach towards but I've been playing with bright pops of color a lot more since I got the Urban Decay pencil vault. There is a bit of shimmer and it almost looks like a duochrome; it's really pretty. The Multiplex 3D mascara is a glossy black that goes on smoothly without gooping or flaking. It's meant to volumize and lengthen but I didn't have that result. I think next time I'm going to try it with the Too Faced Better the False lashes and see how amazing it is. LORAC's statement on animal testing is that they don't "conduct, condone nor endorse testing on animals".
How sad is this broken Laura Geller blush? I read that a few people had shattered shadows, but I got the busted blush. It's not surprising when you consider that everything was just put into the bag with no wrapping, padding or stuffing. It still goes on just fine, but it's obviously messy so I have to handle with care. The color is berry and it's a bit darker than I usually reach for, but it goes on nicely and isn't too bad when applied with a light hand. I've not tried much from Laura Geller before, just a concealer (not bad) and sample of the baked foundation (did not like). I wouldn't say this blush is holy grail, but it's nice and I'll use it from time to time. Laura Geller says they are cruelty free.
Jessica Simpson perfume. *sigh* Every pretty little girl celeb thinks she needs her own fragrance, don't they? Fortunately, Vintage Bloom doesn't stink; it's quite lovely, truth be told. I am not typically found of floral scents but Vintage Bloom's notes of musk and sandalwood stop it from being too flowery. That was a pleasant surprise considering how much I dislike Jessica Simpson's public persona. I wore it out on a Saturday night and sadly, it seemed to fade after a few hours but I did like it as did my husband. I wouldn't buy this perfume but I'll use up the sample.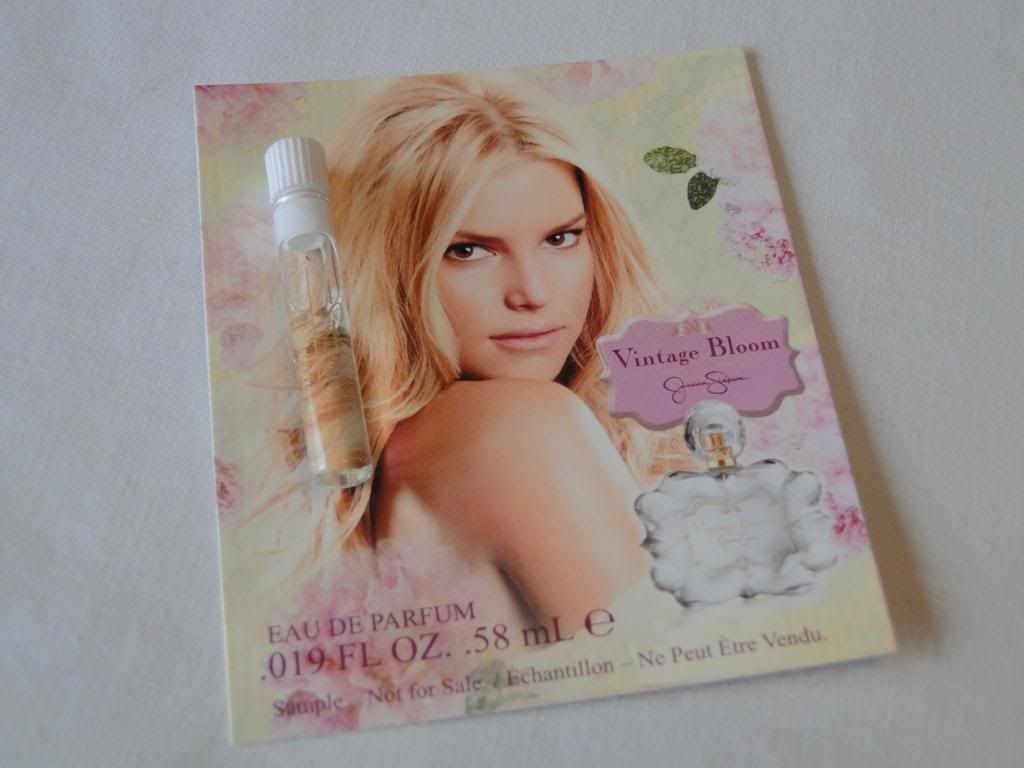 Just for fun, here are a few pictures of my face decorated with the LORAC eye shadow and mascara, NYX lipstick, Laura Geller blush, and Stila liquid luminizer. If you have Smell-O-Vision functionality on your computer you can also smell the Jessica Simpson perfume. The LORAC shadow is on my outer lid/crease but my horrible cell camera doesn't do well capturing eyeshadow, no matter how hard I try. I promise it's there!
I also used:
Urban Decay eye primer potion in Sin
Urban Decay shadows in Scratch (lid), Asphyxia (crease) and Sin (brow bone)
Urban Decay 24/7 pencils in Deep End (top lid), Electric and Perversion (waterline)
E.L.F. Eyebrow Lifter & Filler
Murad Hybrids Skin Perfecting Primer matte finish
Kat Von D Lock-It Tattoo Foundation
Too Faced Sunny Bunny Bronzer
Tarte Smooth Operator Finishing Powder
I totally rocked that poncho when we went out for my friend's birthday. Seriously.
The HauteLook spring beauty bag was an incredible deal for me. The value of the products far exceeded the price of the bag - both in retail and personal values. Four of the items were full sized: the LORAC shadow and mascara, the suki cleanser and the NYX lipstick, plus the Crown brush. And almost everything is from a cruelty free brand -
that
I really like! I'm glad I gave in totemptation and bought it. Sometimes being impulsive pays off.